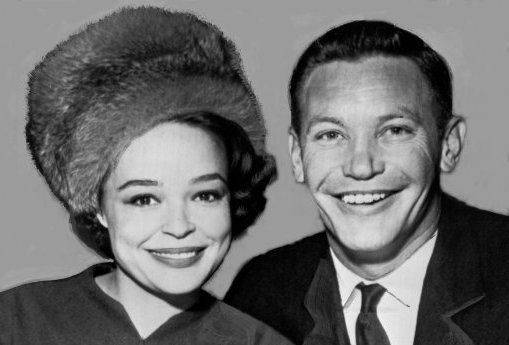 ..
...
Jill Corey and Don Hoak would meet for the first time at home plate at Pittsburgh's Forbes Field one day during the summer of 1960. Jill was there for publicity pictures to promote a scheduled personal appearance in the Pittsburgh area. Don was present with the other members of his team, the Pittsburgh Pirates, who were contending that year for the National League pennant. The Pirates would go on to capture that pennant and then beat the New York Yankees in what many consider the most exciting and dramatic World Series of all time. Approximately a year and a half later, on December 27, 1961, the couple were married in Pittsburgh, and soon thereafter Jill would effectively retire from her own career to follow Don wherever his career in baseball led them.

When Don first met Jill at Forbes Field on that August afternoon in 1960, he told her that he would come to see her at the Vogue Terrace, the club where she was then performing in the Pittsburgh area. True to his word, Don appeared there on opening night and found a seat very near where Jill's own family, who lived nearby, were sitting. At intermission, when Jill came out to chat with members of her family, Don took the opportunity to ask her to dance. When she accepted, Jill recalls that, "He held me very tightly, teased my hair and said, 'I'm going to marry you."

Even though Don did not actually meet her until that summer of 1960, he evidently was bewitched by the beauteous Jill as early as 1958, when he hired a bus to take his team mates from the Cincinnati Redlegs to a drive-in theater to see Jill in Senior Prom, Jill's movie that was released by Columbia Pictures that year.

Although Don had played with the Cincinnati Redlegs, it was later, when he was with the Pirates and returned to Cincinnati to play against his old team, that he managed to carry on his amorous pursuit of Jill. Jill happened to be appearing at that same time across the Ohio River in Covington, Kentucky. Jill recalls that she was to make her entrance on stage unannounced, elegantly adorned in a bright orange feather boa. Bathe in a single spotlight, that entrance was intended to be sophisticated and grand. Instead, as Jill started to sing, she began to hear titters from the crowd. The laughter increased in volume until Jill simply stopped singing to ask the audience what exactly was so amusing about her performance. Her attention was then directed to stage left, where out of her sight, Don had moved two chairs, a small table adorned with a white tablecloth, a crystal vase holding two dozen red roses and a magnum of champagne on ice!

Later, Jill was working a club in Hot Springs, Arkansas, and during one set she heard some strange notes coming from the trumpet section of the band. She turned around to learn the reason and found Don sitting in for the lead trumpeter! Jill was more or less engaged to a Brazilian diplomat at the time, but Don's persistence and ingenuity led her in time to break that engagement. Don and Jill were eventually united in marriage in Pittsburgh, Pennsylvania on December 27, 1961.