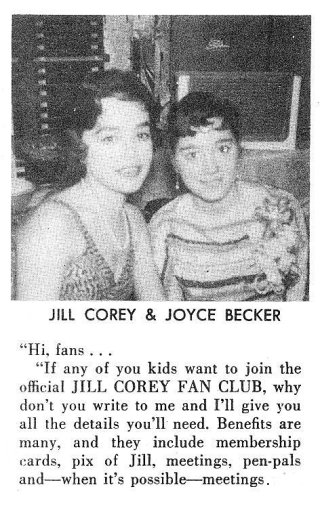 Joyce Becker was in the ninth grade and editor of her junior high school newspaper in the Bronx, New York, when she joined schoolmate Carole Sparr on October 2, 1954, to interview Jill at the Barbizon Hotel in New York City. This happened to be precisely one year to the day after Jill made her debut on national television on the Dave Garroway Show on NBC. The results of that interview are reproduced below exactly as they appeared in Joyce's own school newspaper.

A bond immediately developed between the two young ladies then a mere five years difference in age, and Joyce would later go on to create a fan club dedicated to Jill and her career. Carole Sparr would serve as co-president for a time, but Joyce would become a close personal friend of Jill's, even after Jill would end the first phase of her public career to marry Don Hoak.

Joyce also assembled a comprehensive scrap book of memorabilia from Jill's career during the 1950's. Many excerpts from that collection can be found reproduced here.