Hi Ms. Corey,

I spent a few days last week in Michigan visiting my mother, Lena (Nerone) Prokopp. She told me about the summers she spent at your house as a young girl and recalled you were always singing. I believe she grew up in Nowrytown (not sure about the spelling). She is now 84 years old and living in a small town called Farmington, Michigan. It has been a long time since she spoke of the old days, and her memories of you were enriched with joy and admiration.
.
Keith Prokopp
December 23, 2014
.

---

.
Love you . . .

I fell in love with Jill in the 1950's and it has only grown. Listening to Jill again this morning I just wish I could have seen her more. She made life better for a lot of folks.

I was surfing through YouTube last night, listening/watching everything I could find on Jill and somehow found my way to this website. What fun looking at all the photos from over the years and seeing her daughter all grown up . . . and just as beautiful as her mother, if that's possible. (Does Clare sing?)

I can't remember which song it was now, but I had one of Jill's 45's back in the middle 50's which I absolutely wore out on the turntable, and I was thrilled when she joined Your Hit Parade. Great to hear about the CD and looking forward to that.

Enjoying Jill's voice again last night and getting on up there in years myself, I thought perhaps she'd appreciate knowing that she's remembered and loved.

Thanks again,

Tom Harper
August 23, 2014

[Editor's note: Jill tells us that daughter Clare was a very successful model and did some acting, but she does not sing. Tom remembered that it was Jill's recording of Exactly Like You that he wore out playing so often.]
.

---
From good friend Wes Smith, Jill Corey fan and student of the popular music of the 1950's, we have this piece of memorabilia from 1958 published by one of his local radio stations, WNEB in Worcester, Massachusetts:
.. .
..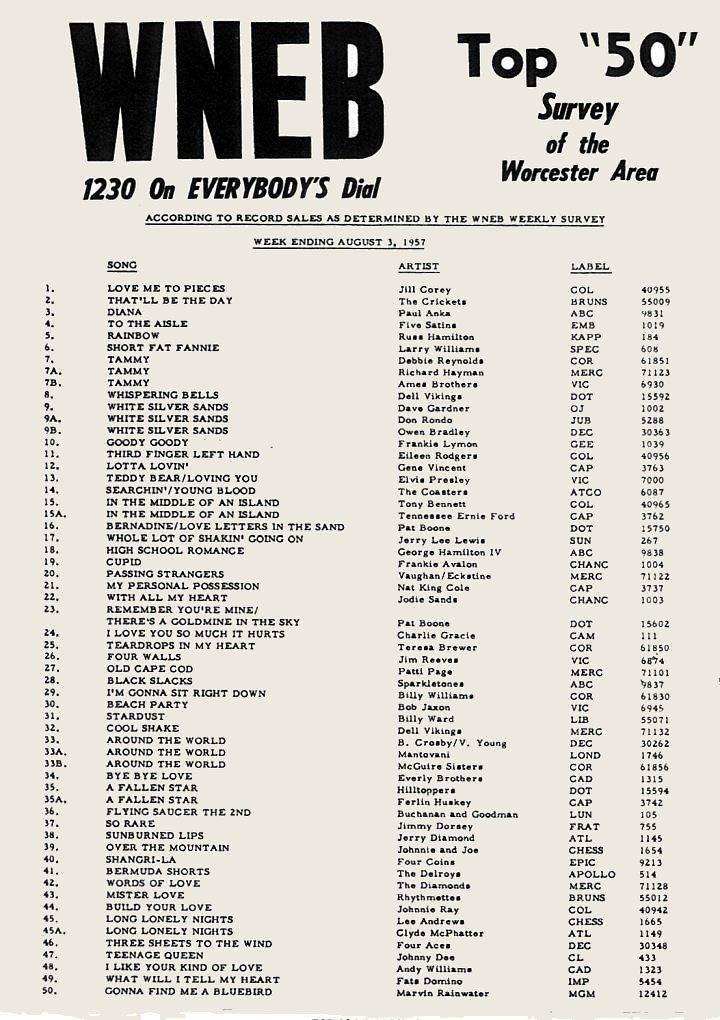 ..

..

You will note, of course, who has the top record in the Worcester market during that summer of 1958, just a few short weeks after Jill introduced Love Me to Pieces on Studio One Summer Theater on CBS television.

Wes collects such top song lists issued by many radio stations during the 1950's, and he would welcome any that visitors to this website would care to share with him. For other students of the music of an earlier era Wes shares with us this link to a website where many Cashbox magazine top song listings may be found.

Wes Smith
Monson, Massachusetts
January 13, 2014
..

---
Hi,
.
I just found your site on the internet. I was born in 1955 and was named after you! I was just speaking with Mom telling her about looking you up on YouTube. I wanted to see who I was named for. She said "well if you talk to her (jokingly), tell her I loved her singing." So, of course, when I saw a place to contact you I just had to! I watched a clip of you singing in "Senior Prom" and I agree with Mom, quite a lovely voice.
.
I am glad I could share with you.
.
Regards,
Jill
.
Jill D.
St. Peters, Missouri
June 26, 2013
..

---

.
Ms. Corey,
.
Don Hoak died in front of me outside of Amberson Towers, where I was living while getting my Ph.D at the University of Pittsburgh. I had been walking either back to or from the building in front of the garage. I just wanted to tell you what great memories I have of Mr. Hoak and the 1960 Bucs and of you as a great singer.
.
. . . [you] and Don Hoak brought so much happiness to so many people [you] should feel quite proud of that achievement.

Richard Vatz
Towsen University Distinguished Professor
Towson, Maryland
August 7, 2012
---

.
Miss Jill,

In 1968, an LP was launched in Brazil. It was called Charleston - Dancing in the Way of the Twenties. On it your voice filled some tracks, Harry Reeser soloing, and Something Smith and the Fire Heads (later identified as Ray Connniff) on others. As a whole a fantastic work, I dare say. I am a composer, and I always name my songs in a way to pay homage. At the moment a show producer named Fernando Murta, a leader in swing, blues and Dixieland presentations, is promoting a very nice spectacle called 90 Years of Charleston. Well, I had an idea for a Charleston, and it had its first presentation on April 28th. Its name: Sweet and Jolly Jill. It is the best I can do to show you how grateful I am for being able to enjoy your voice during [these past] 44 years. I have a short DVD of my work which I would like to send you.

Sincerely yours,
J.

Joaquim Arauto Soares Petris
Brazil
May 16, 2012

[Editor's note: Joaquim will be sending your editor a copy of his DVD for forwarding to Jill, but he prefers not to have it posted on this website. The writer apologized at length in his message for his lack of command of the English language, but it was not necessary; it is far better than your editor's facility with Portuguese, which is essentially none at all.]
---
Hi,
I grew up in Boston, and I recall listening to Jill Corey's wonderful singing voice on WCOP. I turned professional musician after the military, and I can certainly appreciate the tame style of the music of that era.
Ronald Santosucci
Oxford, MA
March 13, 2012
---
Aloha, Jill, from the "Big Island" of Hawaii !
..
I was watching some DVD's from the 50's with you and Johnny Carson. Wow! What a voice and what a beautiful smile you have. I am a few years younger than you, but I do somewhere in my own distant memories remember seeing you perform! I can only say that you have the class and grace that seem "genuine." Since it is a few days before Christmas, I want to wish you a Mele Kalikimaka (Merry Christmas in Hawaiin). My name is Tom, and if you are ever planning a vacation in the Islands of Hawaii, give me a call and I would be honored to be your personal tour guide. For now, much affection from a true fan and friend.
..
Most sincerely,
Aloha
..
Thomas C. Walstrom
From the Big Island of Hawaii
December 21, 2011

---

..
Ms. Corey:

I hope that you're feeling well and in good health and singing as greatly as ever. I just received an LP of your Sometimes I'm Happy, Sometimes I'm Blue as a Christmas present from a friend of mine. That LP contains extra tracks which include the song, Have I Told You Lately That I Love You?, which I first heard when I was an eleven-year-old boy in Snow Hill, Maryland, where my family was living at the time (fall 1959). I heard it a few more times, and I also heard it on WABC radio in January 1961, after we moved to Plainfield, New Jersey, where we now reside. When listening to you again, DJ Herb Oscar Anderson chimed in with you.

I'm 63 years of age, having been born in Pittsburgh, Pennsylvania, where you got your start. That lilt in your voice as you sang the song really floored me! And that song haunted me for fifty years. Still, you are one of my three favorite songbirds of all time, the others being Julie Andrews, who was born one day after you, and Dusty Springfield (You Don't Have to Say You Love Me), who, unfortunately, passed on in 1999. Dusty's music, however, will go on, as well as Julie's and yours. Through all the years, including two years in the United States Army after I graduated from high school, I missed most of your subsequent performances after your husband Don had unfortunately passed on. I came across your website and came across a song you wrote about your husband with lines such as "He loved me so. Every day, in a hundred ways, he told me so."

I'd like to, with your permission of course, adapt this in honor of our men who died for our country during the war in Vietnam, which was my generation's war. Again, I enjoy your LP so immensely that I took it along with me to the Army-Navy game which occured on December 10. Despite my egging on the cadets with a couple of cheers that I made up, such as, "We're gonna beat those squids, we're gonna beat those squids. The Army team will sink 'em in the bay," a bit of a take off on Love Me To Pieces, Navy beat Army 27-21. I certainly hope, Jill, that you will make another LP in the near future, for you have millions of fans around the country, including me. I respectfully suggest that you title it "Hello Again." My name is John E. Pritchard, and my mailing address is PO Box 943, Plainfield, New Jersey 07061. Please keep up the good work. I realize what a busy schedule you keep. I do wish you the best. And if you could record a disc of He Loved Me So, of course, I would greatly appreciate it, for I visit the Vietnam Memorial in Washington, "The Wall," every August, and I'd like to sing your song at the Wall when I'm there. Again thank you so much. Long life to you.

John E. Pritchard
Plainfield, New Jersey
December 15, 2011

---

Hi Jill,
.
I'm from Apollo, Pennsylvania originally. A good friend of mine worked in the Avonmore Foundry. (I'm sure it's gone now.) I remember how proud we were when you emerged as a singing star and then married Don Hoak!
.
I'm 68 and have lived in Ohio for 47 years. I used to visit [Pennsylvania] until my mom passed away three years ago. She lived in Pennsylvania all her life. I haven't been back since she left us. Mom loved your song The Robe.
(So did I . . . what a powerful voice from such a little girl.)
.
I'm happy to hear that you are still with us and wish we could invent a time machine and go back to those magical days when the world was a much better place.
.
An old ex-Pennsylvanian fan of yours,
.
Marty Tomlinson
October 12, 2011

---

..
A Fan of Jill Corey:
'grew up'.
I 'grew up' with Jill Corey (the Johnny Carson Show, Your Hit Parade, the Ed Sullivan Show, etc.). I grew up in Camden, New Jersey and was a longtime Phillies fan (before moving to California). Don Hoak was one of my favorite ball players. I remember when they [Don and Jill] got married and was especially saddened when Don died. Please let Jill know that I'm probably speaking on behalf of millions who would warmly welcome her back to at least some performances, if not a resumption of her singing career. She was, and I'm sure still is, absolutely wonderful! I just ordered her CD's.
.
Jerry Rosen
August 3, 2011
.

---

.
Dear Ms. Corey,
.
I just had a chance to watch CBS' The Johnny Carson Show and your wonderful performance. It was a delight and still as innovative, entertaining, and enjoyable as anything on offer today.
.
I am wondering if you will be one of the many stars to be honored at the final convention of the Friends of Old Time Radio being held at the Ramada Plaza, Newark Airport Hotel this October 20 to the 23?
.
The convention is a chance for those who pioneered entertainment in our first electronic medium to take a bow and be thanked by those of us who are still entertained, enlightened and enthralled by radio. For me personally, I was born legally blind, so it is with sound that as a youngster I made a thousand pictures. I went through a cornea reshaping when I was eight and started to see about that age; but radio has always been my 'love at first sight' so to speak.
.
There would probably be several individuals attending with whom you have either worked or might know professionally, and there will be one endearing fan, me! Please consider it, and if you can make it, allow me to say personally, "Thank you," for entertainment that is truly entertaining.
.
http://www.facebook.com/pages/Friends-of-Old-Time-Radio-Convention/102059496611
http://firstarkansasnews.net/2011/04/last-year-for-the-friends-of-old-time-radio-convention/

Robert Flood
Allen, Texas
July 21, 2011

---

Hello to Jill and Clare,.

Say hello to Jill and Clare. This is an old friend of Clare's (and Jill's) from their days living in Connecticut and when first back in New York City. My name is Paul, and I married a friend (and room mate of Clare's) 20 years ago. Her name was Shannon. I knew Clare when she first started her modeling career. Jill would say, "I want you home early; you have a shoot in New York City tomorrow." Great people! Hope all is well in their world.
.
Paul
May 2, 2011
.

---

Dear Ms. Corey:
..
I took my 13-year-old son Eddie to his first game of the season at Amity Little League in Brooklyn this morning. Because he plays, I coach, and as a coach, I need to bring a baseball glove to the games to warm up pitchers,
play long toss with the outfielders, etc. So I brought my favorite glove, which I bought a long time ago at Friedman's Sporting Goods on Flatbush Avenue in Brooklyn. It is a Wilson Major League Model A2905, Nylon Stitched, Made in USA, with a Grip-Tite Pocket, Snap-Action hinge, Pat. No 2231204, licensed under U.S. Pat No. 2722007. You might have guessed already that it is a Don Hoak Autograph Model. I cannot remember exactly when I bought it, but it was sometime between 1957 and 1960 (so I was somewhere between 10 and 13) I was a huge Brooklyn Dodger fan, and I remember just how crazy everyone in Brooklyn went in October of 1955; it was unlike any other time I can ever remember. I was also definitely rooting for the Pirates in the 1960 series. I've never acquired any single item in my life that gave me as much pleasure as this glove. I used to play ball with it for hours and hours a day back when I simulated baseball games by throwing a ball against the side of my house, and later, when I played stickball in the P.S. 134 playground or softball in various summer camps. The only mistake I ever made involving the glove was lending it to my friend Louis, when he was a Little League coach in the early 1990's. The acids produced by his hands ate somewhat into the soft leather inside the glove.
..
Having just used the glove again this morning, it occurred to me to look up the statistics of your late husband's baseball career on one of the baseball statistics internet sites, and then on Wikipedia, which is where I found a
link to your website. Having read your online biographical information, I was also surprised at the following coincidence: I am in the middle of reading "Frank: The Voice," a biography of Sinatra by James Kaplan. I am
currently reading about the early '50's, a time when Mitch Miller figured greatly in Sinatra's life. So the links mentioned on the websites between you and Miller and you and Sinatra are interesting.
..
At any rate, I thought you might find it interesting that something associated with Don Hoak was still giving pleasure to someone in Brooklyn 56 years after the Dodgers were our Woild Champs. And I hope you and Don got some decent royalties from Wilson. Thankl you for taking the time to read my reminiscences.
..
Jon Silverberg
Brooklyn, New York
April 9, 2011
..

---
I just read the LIFE article about Miss Corey that I purchased off eBay. I am so happy to find that she was the success that all envisioned for her. And Gordon Parks was the photographer! What an honor.
.
I was born in 1960, so I was too young to remember her singing, but I will start looking for recordings to hear the voice that I just read about today. Funny, with a "bidding" war between Arthur Godfrey and Dave Garroway as mentioned in Wikipedia, Miss Corey predated another singer's beginnings, Justin Beiber.
.
Frank Wendeln
Director of Marketing/Art Director
Parrot House Publishing
February 10, 2011
.

---

..
Hi . . . So Glad to Have Found You Still Performing,
.
I am 65 and I watched you on Your Hit Parade all the time. In fact, I remember seeing you on TV many times.
.
I love to go on YouTube and look at the singers I grew up with. So many are gone. As a little kid I used to watch My Little Margie. I bought a CD of her [Gale Storm] singing, and it was so great that I started to buy more CD's from my past. I got to meet her because I took a used 45 record to a San Diego TV show. They took my record, researched it, and it became part of the TV show, so I finally got to meet Gale Storm.
.
Hey, I was the first latch key kid - lived in a bad area of the south side of Chicago. So you keep singing and maybe one day I'll catch up with you somewhere sometime. We have to have goals, and I just want you to know that you're not forgotten and still appreciated. I promise, I will buy one of your CD's.
.
Thanks for the memories.
.
Sincerely,
James Sleeth
.
James Sleeth
Nashville, Tennessee
January 25, 2011
.

---

.
Hey Jill,
.
I grew up in Roulette, Pennsylvania, the same town as your late husband Don Hoak. He is a local legend back there. When I was a kid back in the 80's, Don Hoak's dad lived in a small trailer up the street from me. Mr. Hoak was a very interesting man, always outside working on his elaborate garden. He loved when we would stop by and ask him to tell us stories about his legendary son Don. He often talked about you, but he would go on for hours about Clare. He would show us fliers and posters from Broadway musicals and such and was so proud of all of you. I remember one time he showed me and my buddy Isaac a picture of Clare. Our jaws dropped to the ground. She was very beautiful. This was before the internet and I was in my teens, so I really didn't know who you were at that time.
.
Thanks
Michael S.
.
Michael S.
Roulette, Pennsylvania
January 10, 2011

---

.
Greetings Jill,
.
Not sure if you remember me, but we lived on the same fourth floor for many years at 71st Street and First Avenue. I would often see you walking your cat and later became friendly with your daughter Clare. Last I heard, you moved to California to be near Clare.
.
I hope this e-mail finds you well and would love to hear from you.
.
With warmest regards,
Howard
..
Howard D. Goldman, J.D.
Director of Operations
DLS, Inc.
New York, New York
November 17, 2010
..

---

..
Dear Miss Corey,
..
I came across your website while doing some research on Avonmore (where one side of my family was from) and Saltsburg (where another was from). I remembered that there was a Speranza family in Saltsburg whose farmland abutted my paternal grandparents' farm. I asked my mother if they were any relation to you and she said that they were.
..
My mother and her two brothers just younger than she is remember you from grade school in Avonmore, but, then again, most people from there would, given the size of the town and your celebrity status. My uncle Russ (sometimes called Herb; his birth name was Herbert Russell) said that he and you were classmates in Avonmore. They moved from Avonmore to Saltsburg before finishing grade school. Their names are Maxine Beitel Chesnick, Herbert Russell Beitel, and Lester Wayne Beitel (who was usually called Wayne). Their parents (my maternal grandparents) were Steve and Velma Beitel.
..
They also said that their aunt, Theresa Beitel Shoemaker, was a school teacher in Avonmore. You may have known as well their cousins Elizabeth (Betty) Beitel and Margaret (Peggy) Beitel whose parents were Adam (Dutch) and Pauline Beitel.
..
My paternal grandparents, William (Bill) and Stella Chesnick, had a farm in Saltsburg on the road to Nowrytown. The back of the farmland abutted the farm of your Speranza uncle/aunt/cousins. I had met many of them a few times over the years when I would visit my grandparents.
..
My mother and two uncles wanted me to send you e-mail (from the contact address you have listed on your website) to say HELLO and see if you remember them or not. They all wish you well and hope you are doing fine.
..
In any event, it's nice to "meet" you and learn about you from your website. I remember hearing some of your songs when I was a youngster and remember various family members commenting on the fact that you were a "local girl" with great talent who deservedly became famous. I always heard good things about you and your family, especially your relatives whose farm bordered that of my Chesnick grandparents -- the times I met them were always fun and enjoyable.
..
Thank you for taking the time to read my e-mail; I greatly appreciate it. Have a wonderful day, fine Lady!
..
Sincerely,
RAY

Ray Chesnick, Jr.
Cleveland, Ohio
November 16, 2010
..

---

..
Miss Corey,
..
I saw your performances on a DVD with the late Johnny Carson back in the 50's and I was intrigued and curious about you. I googled you and found a wealth of information about you. I read the brief bio and what a wonderful success story. It's really nice to read about success stories and how you worked your way up.
..
I wish you well and hope for a continued fabulous career for you.
..
A New Fan -- Mark Benny
..
Mark Benny
September 14, 2010
..

---

.
Dear Ms. Corey,
..
I was shown your website by Kristin Baggelaar of the Copacabana society and author of the book on the Copa , and I thought that I would also send a note to say how much I appreciated your work on television and records in the years in which I was growing up. I truly enjoyed your singing and was also a fan of Don Hoak in his baseball playing days and was so sorry to learn of his early passing.
..
Mainly I wanted to write and say how very much I appreciated your wonderful performance in the movie Senior Prom, which I saw again recently. It was certainly an underappreciated film when it came out. When I first saw it at a local drive-in movie theater, I was expecting a teen movie. I didn't expect a full-blown major musical production which was carried most wonderfully by you. I waited for more starring vehicles on the screen with you but gradually came to realize that very few serious musicals were being made at that time. But I always remembered your sensitive performance and wonderful singing of standards as well as up tempo music like Big Daddy.
..
Thanks for all the entertainment and happiness you have made over the years. You can google me on the internet. I was a regular on tv's The Children's Hour over WCAU-TV in Philadelphia, and all of us on that show were fans of yours and admired you very much!
..
Very best wishes
David
..
Dr. David Soren
Regents Professor of Anthropology and Classics
University of Arizona
Tucson, AZ
August 27, 2010
..

---

..
Dear Jill,
.
I was playing some old 78 rpm's today and played your "Egghead." Made me remember when Don was the manager of our Salem Virginia Pirates in 1968. Remember you sitting in the stands, but I never had the courage to speak to you or ask for an autograph.
.
I have attended the Salem baseball games now for 50 years and can honestly say that Don made the 68 season the most exciting we ever had. I was so sorry when he passed. I know he would have soon been the manager of the Pittsburgh team.
..
I also think I remember you singing on "Your Hit Parade." Am I correct about that?
..
Anyway, thanks for the great memories.
..
Ernie Hubble
Roanoke, VA
August 20, 2010

---

.
Dear Ms Corey,
..
I just wanted to say hello and tell you that I bought your Sometimes I'm Happy . . . LP today. Yes, in August of 2010 and I love it!
..
Is there any way I can send the cover to you for an autograph? I'd love to have your signature on it and hang it in my office. As a music journalist for nearly 30 years, I thought I knew about nearly every good record -- until today. I'm sorry to say that I wasn't aware of you until now, but I'm a new fan! I'm moved to send you this note of thanks and tell you that you are an incredible talent. The cover alone is brilliant! But thereís a great record enclosed, as well!
..
Looking around on this informative website, Iím amazed to learn of your history and Iíll be seeking out all of your recordings that I can find.
..
I'm sorry to hear about Mitch Miller's passing. What are your thoughts on him, in retrospect? Do you have any other products available? Do you tour? What's new with you?
..
I'm honored to send this to you. Many thanks for your time and I look forward to hearing from you.
..
Have a great evening,

Lee Smith
Atlanta, Georgia
August 5, 2010
..

---

..
Hi ,
..
I used to be married to a radio nnouncer. When Jill Corey came to Winnipeg, Manitoba, Canada, my ex-husband had the honour of interviewing her at one of our then "nightclubs." I was maybe 20-ish, but she was one of my favorite singers, so he invited me along. I did get to meet her, and she told me her mother's name was also Claire (perhaps spelled differently from mine). Anyway, I remember she sang "Cry Me A River," but I can't find any record of this. I was telling my friend and wanted to e-mail him this info. Please help, and if able, give my regards and adoration to Jill Corey. I will always remember her. I believe it was in the '60's when I met her. I could be wrong.
..
Claire Ashmore
Winnipeg, MB Canada
July 30, 2010

[Editor's Note: We have provided Claire with a copy of Cry Me a River.]
..

---

..
Hi there . . .
..
One never knows what you'll find when perusing the internet! I often look to validate things that are stuck in my memory . . .
..
When I was a little boy (circa 1957/age 5), I remember a small collection of '45's my mom & dad had. There were a whole bunch of Columbia red label records among them. One of the records I played over and over again was "I Love My Baby, (My Baby Loves Me") and the flipside "Egghead". As a little kid, you can imagine, I had
visions of an egg being broken on someone's head . . . and I thought "I Love My Baby" was a song about a mother's love for her little bitty "baby"!
..
I grew up in NYC, and that small record collection used to go back and forth to and from our summer cottage in Peekskill, New York each year throughout my childhood. I know I still have that record somewhere in the thousands and thousands of 45's I've collected over the years.
..
I went on to a radio career that took me to Pittsburgh (WEEP/1978-1982) and Detroit (WWWW through the '80's & '90's).
..
Thanks for being a part of my childhood memories. I can still hear those 2 songs, as I played "disc jockey" many a summer's day on our screened porch and can clearly envision my mom's listening with me, my dad working on the house, my brother and little dog.
..
I'm glad I found your website and feel fortunate to share this small "snapshot" in time . . . a great BIG memory for me.
..
Barry Mardit
Huntington Woods, MI 48070
July 25, 2010
..

---

....
Hello,
....
My name is Cindy Ramsell from Hayward, California. I have a copy of Mitch Miller's European Holiday album
that was made for Scandanavian Airways. It was part of my aunt's things when she passed away. She looked alot like you on that album picture. Do you remember what year that album came out, Ms Corey ? If I were able to send it to you, would you autograph it for me ? If not, thanks for the chance to share this with you.
..
*******************************************************************************************************
Thank you so much for answering my e-mail. What a happy surprise that Ms. Corey took the time out of her busy day to listen to my message. Thanks for your assistance in arranging that - wow! I have recently heard her sing alot of her famous songs courtesy of You Tube. What a great voice! Please add my comments to her website. I would be so happy also to receive an autographed picture. Auntie Jay would be jealous. I will never forget this day.

Cindy, a new fan
Hayward, CA
July 18, 2010
..

---

..
Dearest Jill,
..
Well, My Dear, it has been nearly 29 years since we did GYPSY together at the Carousel in Ohio! Just wanted to send love to you. It was such a joy being your musical director on that production. I spoke with you by phone before you moved to California a few years back. I would love to speak with you again if there is a way. I am on hiatus from the business . . . have moved back to Indiana to take care of my dad. Very challenging and very rewarding as well.
.
I do hope that everything is beautiful in your world today. You are so very dear to me, Jill.
.
All Love,
.
Ron Lord
Swayzee, IN
July 15, 2010
..

---
Dear Miss Corey,
Having just seen an episode of Miami Undercover called The Thrush on a DVD on the Mill Creek label, I hope you don't mind my writing to you. The show itself was in very poor condition (very grainy and obviously mastered from VHS), but one thing about it was absolutely hypnotic, and I was eager to find out the name thereof on the end credits. It turned out to be Jill Corey, and I am now wondering why I am not more familiar with this absolutely wonderful singer! I am in my early 50s, and I have been a huge fan of singers such as Julie London, June Christy, Dakota Staton, Sarah Vaughan, etc., etc., for a long time. So why don't I know about you?? I do have countless LPs and 78s lying around in organised disorder, so there may well be something of yours among them, as your name did ring a very slight bell, but I almost feel ashamed that I do not have more knowledge of your work. It's a pity that they only let you do one song in the episode, but your rendition of I'm Through With Love puts Marilyn Monroe to
shame!!
Your website looks very interesting, but it's late at night and I shouldn't even be writing this now! But I just wanted to say, I guess I'm a new fan now.
Best wishes . . . to the sublime Miss Corey,
Colin Tiller
Bournemouth, UK
June 14, 2010

---
Hi Jill,
.
I hope this note finds you well. I wanted to tell you how much I enjoy perusing your website!! I remember you fondly in the Melody Top production of Follies . . . especially your version of "I'm Still Here"!! Also, in Sweet Charity with my dad . . . such great memories. :)
.
I have a favor to ask, if you don't mind. I am currently creating a website for mommy and I have a page reserved for memories from friends, fans, etc. My sisters and I would be honored if you could share any thoughts or stories you have of mom. I know she would have been thrilled to have you
involved in some way.
.
Thank you so much and best wishes always,
.
Melissa Holgate Garner-Brayton
January 25, 2010
[Editor's Note: You will soon be able to read Jill's comments and much more about her friend Dorothy Collins on Melissa's new website dedicated to her mother by clicking here: www.rememberingdorothycollins.com]

---

.
Dear Jill,
..
About three minutes ago my husband, Allan Sugarman asked me, "Do you remember where we spent our first Christmas in Westport?" And, before I could think, he answered his own question: "At Jill Corey's house!" I asked him to try and find you on the internet . . . and he did. WOW! We just saw your most recent pictures and Clare's, too. Oh, my gosh! It seems like one hundred years ago that I interviewed you for a fan magazine at the Barbizon Hotel for Women in Manhattan.
..
Our children: Elizabeth is 34 and is going for her master's degree at Columbia University. David is 33 and is a money manager for some of the top sports stars and lives in Miami Beach, Florida with his wife. So much to catch up on for both of us. Please send me your phone number. Where are you living? We are in New Jersey - same house we built after moving from Westport (still miss living there!). It would be the best Christmas for me to hear from you. All my love to you and Clare.
..
Joyce Becker Sugarman
Morganville, NJ
December 17, 2009
..

---
I was just looking around the net and put in Jill Corey . . . one of my favorites as a teen. I saw that brochure from the Cherry County Playhouse (which was in Traverse City, MI). I wrote Miss Corey a fan letter and she called my house and invited my family to a performance at this play "Sabrina Fair" (July 26th -31st). When I answered the phone and she said she was Jill Corey, my knees started to buckle and my mother thought I was going to faint. She ran and grabbed the phone and me. My parents, brother and I plus my grandparents attended the play one night where Jill Corey met and talked to us. She signed that playbill you picture and I have the booklet in my things along with the newspaper clippings.
Thanks for a sweet memory.
Roxanne Davis
Long Beach, CA
November 10, 2009
[Editor's Note: Click here to see an entire page of memorabilia very kindly provided to us by Roxanne from that performance by our Jill in Sabrina Fair at the Cherry County Playhouse in 1960.]
.

---

.
Love Songs
..
I am a 73-year-old guy with a very happy marriage to my high school sweetheart for 54 years. We really like good love songs and you have one of the very best. I know that there are others that have performed "Have I Told You Lately That I Love You?," but as far as I am concerned, yours is the best. What a wonderful voice, so full of the emotion that it gives me goose bumps. Great job.
..
Thank you and best wishes,
..
Don and Wanda (Stout) Rogers
Denham Springs, LA 70726
August 1, 2009
..

---
In 1959, for a Union-Endicott [high school] talent assembly I did a lip-synch to Jill's "Exactly Like You" song, complete with orange satin shimmy dress. It was a huge hit! In the audience at another school where we performed was my future husband, who fell over with my performance. At our 25th reunion, the gang asked me to do it again! The cheers were just as loud. We are getting ready to celebrate our 50th high school reunion - and someone will inevitably ask me to do "Jill Corey." But alas, the dress shrunk or I grew! Her record is safely tucked away! She still has a huge place in my personal history and I loved her singing! Thanks for the happy high school memories and my husband of 46 years.
Wanda Mastrogiacomo Hudak
Endicott, New York
July 7, 2009
[Editor's note: Wanda went on in a second e-mail to provide a bit more of the background on her performance.]
My mom made the shimmy - orange satin with black fringe - the Union-Endicott school colors. She fashioned a headband with a beautiful rosette, and we plunked a large rhinestone pin in the center. The result was, when the spotlight hit the pin, the flash of brilliance added to the drama! At my husband's school (North High), where we shared the talent show, he told me that he was sitting behind the spotlight and felt like he got a shot of lightening! We met six months later when I was in nursing school and he was an orderly working his way through college. He revealed that he just knew that "I was meant for someone exactly like him".
Jill's songs are peppy and happy, and I don't think we will ever outgrow the need for that type of music that had words we could understand.
..

---
The July 2009 issue of InTune International, the magazine published in the UK and dedicated to lovers of the golden age of popular music, contained a glowing review of Jill's two-CD set Little Girl Blue. Dan Singer in his column Singer's Singers writes the folowing:
..
..

JILL COREY: LITTLE GIRL BLUE
Audiophonic 2007 www.jillcorey.com
Here's a welcome 2-CD package of 30 standards recorderd from 1954 to 1958. [The company] has come up with an exceptional, breathtaking Corey festival of familiar songs performed to perfection. Born Norma Jean Speranza, her name was changed by TV star Dave Garroway in 1953 for her debut on his popular NBC show. By 1958 she was in a Columbia film called Senior Prom. In this pleasurable, all-highlights package there are songs delivered in breathtaking, sharp vocal purity. For example, there's Get Happy (Koehler/Arlen) with verse intact. Jill sweetly sings it to the hilt. Speak Low (Nash/Weill) is performed with sweeping clarity. One For My Baby (Arlen/Mercer) unfortunately is given a one-time-around vocal. Jill makes it matter all the more. The big-band-led vocal on I'm Sitting On Top Of the World (Lewis/Young/Henderson) couldn't be better. Ms. Corey is dramatically on top of it all. She's perfectly on perfect pitch and key throughout, like cream rising to the top. Mountain Greenery (Rogers/Hart) happily is all smiles. Give Me The Simple Life (Ruby/Bloom) is sung in a pair of different rhythms. Jill amazes in this familiar song. Little Girl Blue (Rogers/Hart) tenderly is as soothing and as soft as a flower petal.
The fine singer Fran Warren just might come to mind while listening to these remarkable selections. Yet Jill surely has her very own identifying phrasing and breathing techniques. As a woman's song, Everything Happens to Me (Adair/Dennis) makes proper sense. Jill makes it all her very own. Makin' Whoopie (Kahn/Donaldson) sounds as if it were written just for her. She's true to this novel swinging novelty. The Trolley Song (Martin/Blane) swings along differently in a dazzling non-Garland vocal. Who Cares? (Gershwins) is remarkable. It's most dazzling and uplifting. Song after song, she is effervescently captivating with a fresh perky sound.