Jill appeared on the Ed Sullivan Show six times and was scheduled for a seventh engagement but became ill on the day of the broadcast, Jill was one of Ed's favorite guests, and on one program he actually called her back to do an encore of her spirited rendition of Bye, Bye Blackbird. The series of screen snaps above from actual Sullivan broadcasts include Jill singing some of her hit songs, I Love My Baby, Love Me to Pieces and Big Daddy. On one program Jill is perched atop an Alaskan glacier singing I'm Sitting on Top of the World!

We wish to express our profound appreciation to Ms. Mary Sherwood of SOFA Entertainment for granting us permission to post the following clip of Jill singing Big Daddy on the Ed Sullivan Show on location in Alaska in 1959. The setting for Jill's song is the actual Red Dog Saloon in Alaska's capital of Juneau.
.
.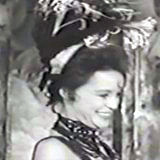 * * * * * * * * * * *

We are deeply indebted to devoted Jill Corey fan Mr. John Greenstreet of Baltimore, Maryland, for his talent and expertise in creating the moving image display above. You can read Mr. Greenstreet's story of his own introduction to Jill and her manifold talents on our Reflections page.